About Us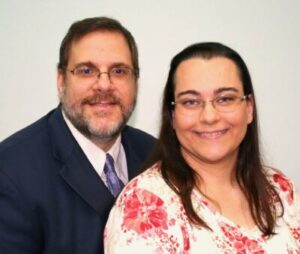 James and Joy Campbell
IPM Instructor and Evangelist
A New Creature in Christ - James' Testimony
Although I was raised in the Catholic church and attended mass regularly and partook of all the sacraments that they offered, I did not have inner peace.
I worked more than 60 hours a week in the ministries of the Catholic church in hopes of finding inner peace. After two years of volunteering, I decided that it was time to attend college. Two deaf men met me in my dormitory hallway and showed me the way to find inner peace. In 1994, at the age of twenty-seven, I received Christ as Savior. In 1997, I married my wife, Joy who also shared my burden for lost souls.
As a new creature in Christ, my heart is burdened for lost souls. In the summer of 1997, I began studying pastoral studies and received a Bachelor of Arts degree. After that, I taught a number of courses at the Bible Deaf college for 12 years and am a Deaf pastor for 20 years.
It is my burden to train foreign nationals to reach the Deaf by emphasizing the need of Deaf leaders whose primary language is the local sign language rather than interpreters in a hearing church.
Ivory Coast Ministry Video
"Because the Deaf have lost their hearing…. should they also lose their souls?"